We offer a wide range of products including Granite, Quartz, Marble, Onyx, Soapstone, and Quartzite.
It's one of the earth's strongest materials making it the perfect material to adorn your kitchen. It's a customizable and durable stone with an aesthetic look that simply can't be matched by any other material.
It begins as crystals in the earth that then undergo a specific process in order to become the beautiful countertop in your kitchen.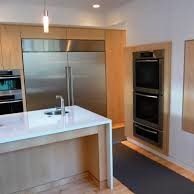 It comes second in line for being the most commonly discovered mineral in the world and some of its varieties can be considered as semi-precious gems.
It forms a hexagonal crystalline structure, which is the factor that makes it so hard and durable. This rock can be found in a variety of different colors with the most common being clear or white.
Manufacturing Process
Most are made from approximately 93% crushed quartz and 7% polymers. This results in a work surface that is heat-resistant, stain-resistant, almost scratch-proof and basically maintenance-free. The added materials also allow for color transitions so that the counters can be made in basically any color under the rainbow.
It's these color options that are the most exciting to homeowners. With granite, the color selection is limited to more earthy tones since it is a natural rock that comes straight from the earth. There is no material added to granite so there is no option to provide it in dramatic and exciting colors.
An engineered work surface can often be mistaken for one that is made of granite. They can be created to look just as organic as granite does but without the hassle of continual maintenance.
It has become a designer's delight since it's easy to work with, can flow with the rest of the kitchen and can turn any dull kitchen into a work of art immediately. Granite isn't the only heavy hitter in town when it comes to countertops anymore! Quartz has become a worthwhile opponent that provides its own list of countertop benefits.
This is the most durable type of countertop available on the market and can last a lifetime if treated properly

Does not have to be sealed

A wide range of designer color options are available

They literally pay for themselves since they add value to the home

Safer than others since bacteria have a tough time taking hold

Often less expensive than granite
With natural stone you're able to bring the outdoors inside naturally. While other countertops are processed, it's delivered to your kitchen straight from the earth itself. Large pieces of stone are lifted from a quarry and then cut into slabs that form the countertop. No other materials or chemicals are added to the slab – it's nature's gift to you.
Granite is one of the most durable countertops you can purchase. Not only is it beautiful to look at but it acts as a functional surface that you can count on for years to come. It is stain and heat-resistant so it continues to look as good in the years to come as it did when it was first installed.
These countertops can take a lot of wear and tear. It's the perfect choice if you have a family full of children that aren't always easy on household fixtures. When the glass falls out of your child's hand and bounces off the counter, you'll know that your granite isn't dented or bruised in any way.
Sealing is mandatory to maintain its integrity. The supplier you're working with will tell you what type of sealing product should be purchased and will probably recommend adding another coat of this sealant to the surface on a yearly basis. This process only takes a few minutes of your time and keeps the stone looking its ultimate best.
Marble countertops are well-known for their stunning beauty and elegance. Once you start doing more research about them, however, you quickly find out that they aren't the most durable or the most inexpensive countertop available.
For this reason, a process has been developed to incorporate its' beauty together with durability to create the perfect kitchen.
Marble has its own type of appeal to anybody that loves it. The stone can have a homey type of appearance with a natural patina or it can have that pristine showroom quality that many are looking for.
If you love a natural patina, this type of stone would work well in your bathroom.
Looks can be conceiving when it comes to kitchen countertops. The fancy and shiny counters that you see in your retail store may not look the same in a year or 5 years' time.
Every type of counter has its own level of durability and resistance to wear and tear. Unfortunately, marble kitchen countertops are not the best choice for this application unless you like the worn look.
If you're considering quartzite for your kitchen countertops, you're probably wondering how it compares to the other materials available, especially other stones. You should definitely take the time to find out all you can about this great material, but luckily you won't have to look too far. Here's everything you need to know to make an informed decision before you buy.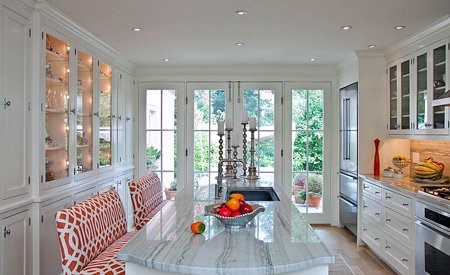 One of the first things most people want to know about quartzite is how it compares to granite. The two are both natural stones, both are hard, and both are very beautiful, but you have to look a little deeper to see if one is a better fit for you than the other. The next 3 paragraphs are a good overview, but if you want an in-depth comparison I have one here for you.
The similarities between the two stones abound. Both are formed deep within the earth from heat and pressure, so both stones are hard and sturdy. At a 7 on the Mohs Hardness Scale, quartzite is actually harder than granite. It's harder than all the other popular stones used in countertops.
The differences between the two are what makes quartzite countertops stand out. Many people love the look because some types can look very much like marble. Granite tends to have darker flecks in it (an effect of it being formed from molten lava), while quartzite usually has little or no dark spots.
Another difference between the two stones is the fact that most quartzite is denser and less porous than granite. Both are naturally porous to some extent, although you can find quartzite that may require little or no sealing at all. Most retailers will suggest that you seal it just in case because it's better safe than sorry when dealing with and natural kitchen work surfaces.
White Quartzites That Look Like Marble
For anyone who loves the look of marble but who hates the thought of paying a premium for their countertops, quartzite can be a great alternative. Some look so much like marble, it's hard to tell the difference.
As you shop around you may find some quartzite slabs have than have been labeled as "soft". They will look and wear like marble because that's more than likely exactly what they are. There is no such thing as a "soft quartzite". Marble chips and etches fairly easily, so you probably want to steer clear of these if performance is important to you. You might see these labeled as Super White or Gray Goose.
White Dallas seems to be a popular choice for those looking for something similar to Calacatta marble. The white stone has grey veins that really resemble marble, but the tough stone is far more durable than its marble counterpart.
White Macaubas is another you may want to consider. Macaubas looks a lot like Carrara marble but is resistant to scratches and chips. It also won't etch like marble does. It's a popular alternative for anyone who wants a lighter stone in their kitchen, but who wants less worry, especially if the kitchen sees a lot of use.